Online Programs
Oakland City University makes it easier than ever to earn the degree you want, no matter where you live. Our wide selection of graduate and undergraduate online degree programs not only gives you limitless career options but also allows you to reach your personal and professional goals in less time at an affordable cost. At OCU, we accept up to double the number of transfer credits accepted at other colleges and universities, as well as complete previous experience assessments, to cut your costs even further. View our comprehensive list of online degrees, and see how our convenient 5-week class rotation and the flexible online delivery can take you to the next level of your career.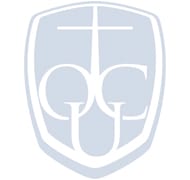 HEAD
At the core of the OCU Foundation is a commitment to provide an unequaled education in the liberal arts and sciences. This broad educational experience prepares our students with the knowledge necessary to apply the principles learned in the classroom to the problems and issues of today.
HEART
The preparation of the head without the connection to the heart leaves a person void of purpose. The University believes the spiritual formation of the individual is critical to the success of a student. Rich in the tradition of the General Baptist denomination OCU offers students, faculty, and staff the opportunity to investigate their own faith and to develop an understanding of what they truly believe and the ability to express their faith verbally.
HANDS
Knowledge without the ability to apply becomes little more than an academic exercise. The OCU Foundation gives students the opportunity to express their faith and academic achievements through guided responses such as international mission trips and community service.
WHY CHOOSE OCU ONLINE?
ACCELERATED
Oakland City University courses are either 5 or 8 weeks long. With multiple start dates, you can easily adjust your education to fit your schedule. CONVENIENT
Study anywhere, at any time. Our online programs make it easy to get the best faith-based education no matter where you are. HIGH-QUALITY
Join our warm faith-based community and have access to a network of professionals around the globe. AFFORDABLE
OCU offers a cost-effective Christian education. With our online programs, you save on travel expenses and can reduce the time you take off of work.