CompTIA Network+ (N10-005)
Home ›
CompTIA Network+ (N10-005)
Program Description

The exam covers network technologies, installation and configuration, media and topologies, management, and security. Candidate job roles include network administrator, network technician, network installer, help desk technician and IT cable installer. Companies such as Dell, HP, Ricoh, Sharp and Xerox recommend or require CompTIA Network+ for their networking technicians. It is a technical prerequisite option for IT technicians seeking to join the Apple Consultants Network and is recognized by the U.S. Department of Defense. Network+ is the next logical step from A+ to build your skills in the arena of network infrastructure and support.
Course Syllabus
Module 1 – Networking Concepts
Section 1 – Models and Devices
Logical vs Physical

The OSI Model

The TCP/IP Model

OSI vs TCP Models

Common Devices

Bridges

Routing and Switching

Routing Terms

Routing Protocols

Switching

Summary
Section 2 – Network Addressing
Addressing

IPV4 and IPV6 Examples

IPV4 Classes/Ranges

IPV4 Private Address Spaces

Special Addresses

Binary Primer

Classful Addresses

Subnetting Basics

Classless Addresses

Summary
Section 3 – Ports, Protocols, and DNS
Ports and Protocols

Common Ports

Common Protocols

Domain Name System

Google Servers

Record Types

Recursive Query

Iterative Query

Disabling Recursion

Summary
Section 4 – Virtual Networks and Troubleshooting
Virtual Networks

VN Components

Network Troubleshooting

OSI/TCP Models

Ping Demo

IPconfig Demo

NSlookup Demo

NetStat Demo

Terminal Demo

TelNet Demo

Putty Demo

Utilities Demo

Summary
Module 2 – Installation and Configuration
Section 1 – Switches and Routers
Basics

Switches

Routers

Hardware

Router and Switch Problems

Summary
Section 2 – Wireless
Wireless Installation Concepts

Wireless Standards

Common Wireless Problems

Field Experience

Summary
Section 3 – Dynamic Host Configuration Protocol
Basics

Process

DHCP Options Demo

Summary
Section 4 – Small Office/Home Office
SOHO Requirements

Cable Requirements

Device Requirements

Equipment Limitations

Compatibility Requirements

Summary
Module 3 – Media and Topologies
Section 1 – Standard Media and Connectors
Types and Properties

Transmission Speeds

Plenum and Broadband

Media Converters

Standard Connectors

Copper Connectors

Ethernet Cables

Physical Problems

Summary
Section 2 – Wide and Local Area Networks
WAN Types

WAN Properties

LAN Types

LAN Properties

Wiring Distribution Components

Summary
Section 3 – Network Topologies
Standards

Channelization

Latency

Network Topologies

Star and Hybrid

PTP

MPLS

Summary

Topologies Demo

Home Office Demo

Cloud/NaaS Demo

Small Office Demo

Medium Office Demo
Module 4 – Network Management
Section 1 – Documentation and Monitoring
Documentation

Configuration Management

Network Monitoring

Network Appliances

Summary
Section 2 – Hardware and Software
Hardware Tools

Software Tools

Summary
Section 3 – Performance Optimization
Module 5 – Network Security
Section 1 – Wireless Security
Encryption Keys

Symmetric Key

Asymmetric Key

Wireless Encryption

Filtering

Device Placement

Summary
Section 2 – Network Access
Access Control List

Tunneling/Encryption

Remote Access

Authentication

Summary
Section 3 – Threats and Mitigation
Wireless

Attack Types

Viruses

Mitigation

Summary
Section 4 – Appliances and Physical Security
Firewalls

Rules

Appliances

Physical Security

Summary

Course Review
With US Online Learning's e-learning system, certification has never been simpler! You can be starting your IT career or taking your current IT skills to the next level in just a few short weeks. Our award-winning learning system gives you all of the benefits of a live class at just a fraction of the cost. We're so confident that our materials will produce results; we guarantee you'll get certified on your FIRST attempt or your money back!
US Online Learning's courses include:
Expert Instructor-Led Training
US Online Learning uses only the industry's finest instructors in the IT industry. They have a minimum of 15 years real-world experience and are subject matter experts in their fields. Unlike a live class, you can fast-forward, repeat or rewind all your lectures. This creates a personal learning experience and gives you all the benefit of hands-on training with the flexibility of doing it around your schedule 24/7.
Visual Demonstrations & Multimedia Presentations
Our courseware includes instructor-led demonstrations and visual presentations that allow students to develop their skills based on real-world scenarios explained by the instructor. US Online Learning always focuses on real-world scenarios and skill-set development.
Quizzes & Exam Simulators
US Online Learning's custom practice exams prepare you for your exams differently and more effectively than the traditional exam preps on the market. You will have practice quizzes after each module to ensure you are confident on the topic you have completed before proceeding.
This will allow you to gauge your effectiveness before moving to the next module in your course. US Online Learning Courses also include practice exams designed to replicate and mirror the environment in the testing center. These exams are on average 100 questions to ensure you are 100% prepared before taking your certification exam.
Social Learning & Networking
US Online Learning has designed a world class Learning Management System (LMS) This system allows you to interact and collaborate with other students and US Online Learning employees, form study groups, engage in discussions in our NOW@ Forums, rate and "like" different courses and stay up to date with all the latest industry knowledge through our forums, student contributions, and announcement features. This LMS is unmatched in the industry and makes learning fun and enjoyable.
Flash Cards & Educational Games
US Online Learning knows that education is not a one size fits all approach. Students learn in different ways through different tools. That is why we provide Flash Cards and Education Games throughout our courses. This will allow you to train in ways that keep you engaged and focused. Each course will have dozens of Flash Cards so you can sharpen your skill-sets throughout your training as well as educational games designed to make sure your retention level of the materials is extremely high.
US Online Learning's self-paced training programs are designed in a modular fashion to allow you the flexibility to work with expert level instruction anytime 24/7. All courses are arranged in defined sections with navigation controls allowing you to control the pace of your training. This allows students to learn at their own pace around their schedule.
SALE PRICE: $495.00 USD, when you use PROMO CODE: NET101
(Regular Price: $795.00)
URL Link: http://www.usaonlinelearning.com/course/comptia-network
Last updated Feb 2018
About the School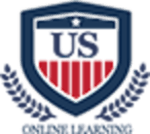 US Online Learning is the leader in providing premier online technical training courses that are both comprehensive and up-to-date.
US Online Learning is the leader in providing premier online technical training courses that are both comprehensive and up-to-date.
Read less