Bachelor's in Business Administration with a major in Human Resources Management
Home ›
BBA ›
Bachelor's in Business Administration with a major in Human Resources Management
Program Description
The Bachelor of Business Administration with a concentration in Human Resources develops professionals with the knowledge, skills, abilities, and competencies required to perform functions of technical, administrative, managerial, and research in public and private organizations at the local and international scenery. The emphasis in the development of competencies, aligned to the changing environments of the management of human resources, in training the students as analysts or specialists in the essential functions of management and administration of human resources in the organizations.
Program Objectives
Develop specialists and professionals in the administration and management of human resources with the knowledge, skills, and competencies to serve successfully as agents of change of organizational values and cultures.
Contribute to the training of professionals able to increase the efficiency and profitability of enterprises, through the improvement of processes, redesign of organizational structures, and efficient use of information and communication technology.
Develop leaders with a high sense of ethics and respect for diversity, representing the social, generational, cultural differences among others, in the work environment at the global level.
To promote the development of strategies to advance an agenda based on human talent as a promoter of cultures of achievement, focused on the goals of the organization.
Promote the development of professionals that are continuous learners and main managers in the strategic planning of human talent through training, research, and innovation.
Contribute to the training of qualified professionals to develop innovative strategies to meet the demand resulting from processes of change in the organizational, governmental, cultural, or in the environment.
General Education Requirements
All applicants must complete the required general education course work prior to starting the concentration courses.
General Education Courses
FYIS 101 Induction Seminar to Distance Education
SPAN 101-102 Introduction to Spanish Language – Basic Level or
SPAN 103-104 Introduction to Spanish Language –Intermediate
ENGL 101-102 Introduction to English - Basic Level or
ENGL 103-104 Introduction to English - Intermediate
MATH 112 College Algebra
QUME 250 Quantitative Methods I
SOSC 101-102 Introduction to Social Science I and II or
SOSC 103 Introduction to Social Sciences (Compendium) and
PSYC 123 General Psychology (Compendium)
SCIE 111-112 Integrated Science I and II
COIS 101 Introduction to Computers
HIST 101 Introduction to the Study of History
SPAN 215 Writing and Composition
ENGL 212 English Second Year Basic Level
ENGL 350 Conversational English
HUMA 101-102 World cultures I and II
Core Professional Courses
FYIS 101 Induction Seminar to Distance Education College Life
ACCO 111-112 Introduction to Accounting I and II
STAT 201 Introduction to Business Statistics
ECON 123 Introduction to Economics (Compendium)
ECON 325 Introduction to International Trade
ENMA 101 Introduction to Business Development
MANA 210 Administrative Theories
MANA Management concentration course
BUSI 204 Commercial Law
MARK 133 Principles of Marketing
FINA 202 Commercial Finance
Concentration Courses
HURM 201 Recruitment, Selection and Talent Management
HURM 210 Policy Making, Evaluation, and Reward System
HURM 215 Human Resources Information System
HURM 240 Employment and Labor Law
HURM 250 Training, Development and Career Management
HURM 304 Human Resources Evaluation and Performance
HURM 320 Negotiation and Conflict Management
HURM 330 Safety and Health Management in the Workplace
ODHR 409 Consulting Management Principles of In Human Resources
MGMT 431 Integration Seminar
General Admission Requirements
Admission Requirements:
Students applying for the regular undergraduate program must meet the following requirements:
High School Graduation Diploma or its equivalent (GED).
Admissions Process – All applicants are required to:
Attend an orientation session where the structure, policies, and procedures of the programs offered are discussed.
Submit an admission application.
Submit academic evidence from previous studies or degrees earned.
Every applicant to the SUAGM institutions in the State of Texas can demonstrate compliance with the admissions requirements related to the prior academic experience and/or achievement by presenting the original of any of the following documents:
Evidence of previous credits, courses or studies documenting graduation from secondary school
A General Education Diploma (GED) or other diploma or graduation document
Certification prepared by a secondary institution or appropriate government agency, board, etc. confirming completion of secondary school or equivalent
Grade report
Applicants should present one or more of the original documents to the authorized institutional officer. The officer shall examine the document (s) to corroborate, in his best judgment, that it is original and has no visible alterations. If the applicant cannot leave the original document for his admission record, the officer will make a copy and certify with his initials that it is a copy from the original. In validated cases, the Campus Director or his designated representative may consider the admission of applicants who cannot present the evidence as described above but meet the following requirements:
The applicant demonstrates that he/she has no reasonable access to appropriate documentation.
The applicant presents a notarized declaration in which the applicant certifies that he meets the requirement of prior studies.
The applicant participates in an admission interview (Puente Support Services Program and Nursing Program).
The applicant must also complete an interview with the Campus Director or authorized institutional officer to evaluate compliance with the previous requirements.
The applicant takes the placement tests in English and Spanish. (Students have previous studies at any of the UAGM campuses in the continental US will be exempt from this requirement). Students should contact the Student Success Center for more specific information.
Last updated Jul 2020
About the School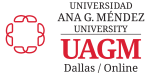 Ana G. Méndez Dallas University / Online offers associate degrees, baccalaureates, and master's degrees 100% online. All grades are offered 100% in Spanish or English. It is part of the Ana G. Méndez ... Read More
Ana G. Méndez Dallas University / Online offers associate degrees, baccalaureates, and master's degrees 100% online. All grades are offered 100% in Spanish or English. It is part of the Ana G. Méndez University, the first private higher education institution in Puerto Rico according to the Independent Postsecondary Education Data System (IPEDS), a division of the United States Department of Education.
Read less